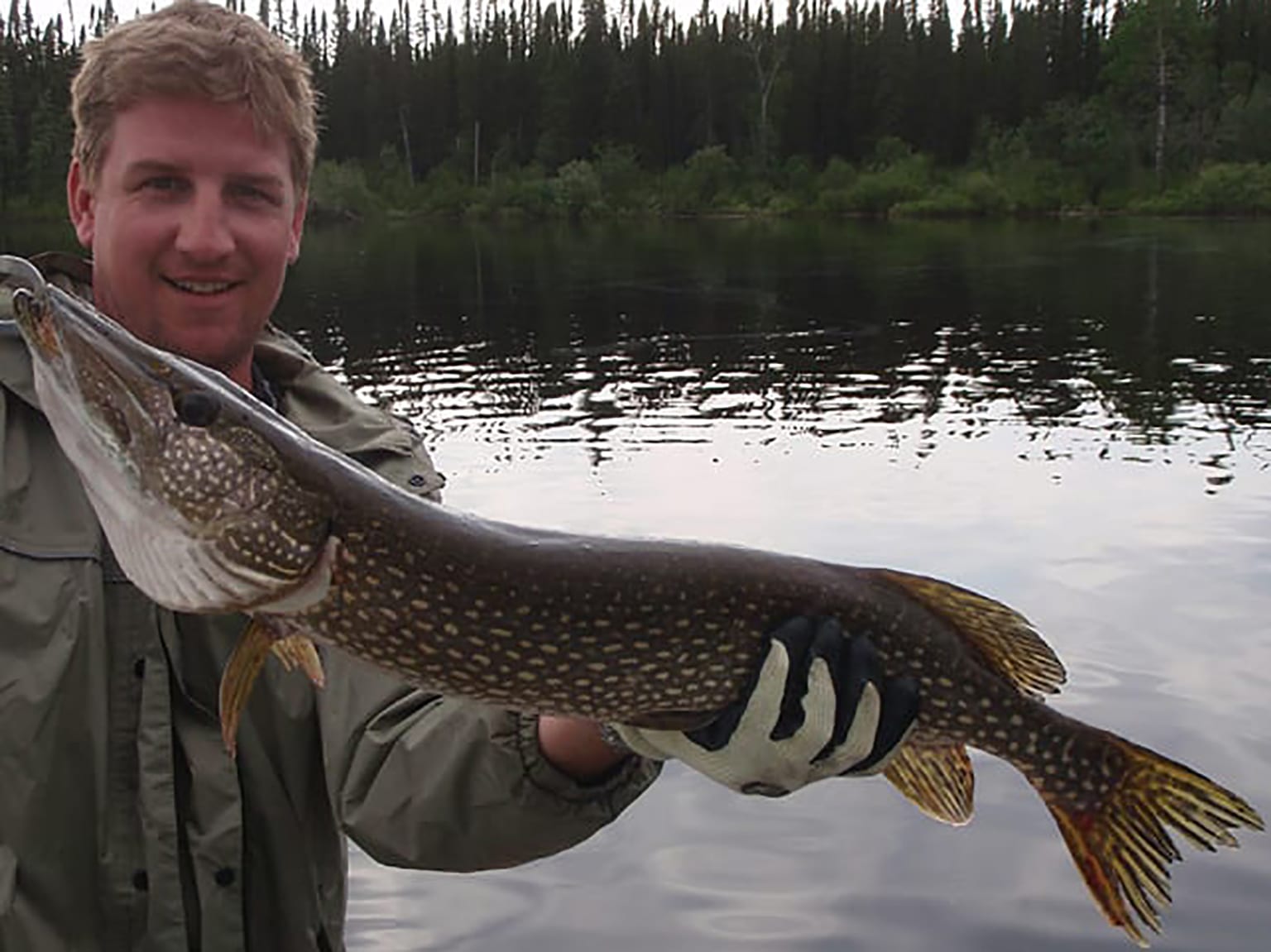 Fly-in Northern Pike Fishing
Many claim to be on lakes that have been referred to as "The Land of the Gators" but we are the real thing!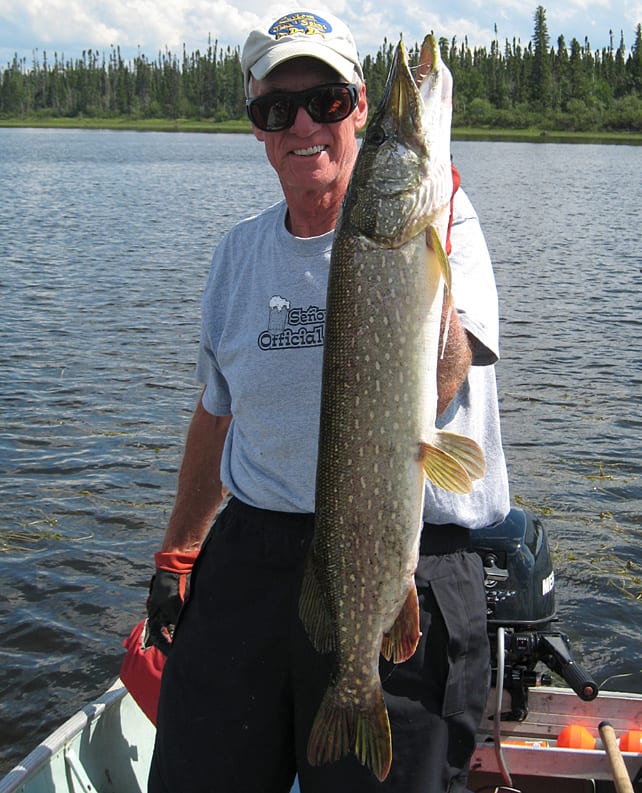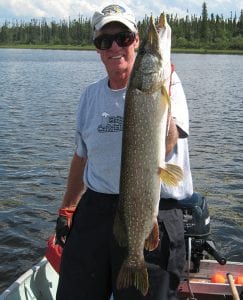 There are many lodges and camps in Ontario that claim to be on lakes that have been referred to as "The Land of the Gators" but we are the real thing. The largest Monster Trophy Northern Pike in Ontario come from the lakes and rivers north of Nakina. Actually, the rivers traditionally produce the biggest Northern Pike. It's not just length that is impressive. Northern Pike in our water system are unusually thick. Huge Monster Pike that just finished a big meal often sun themselves in the shallows near Wild Rice to speed up digestion and they actually look like alligators in the water, thus why Northern Pike fishing fanatics called them Gators.
Below are Northern Pike fishing descriptions for Beteau Lake, Windsor Lake, Richter Lake and Blackbirch Lake.
Beteau Lake Northern Pike Fishing:
Beteau Lake is a widening of the famous Attawapiskat River and produces the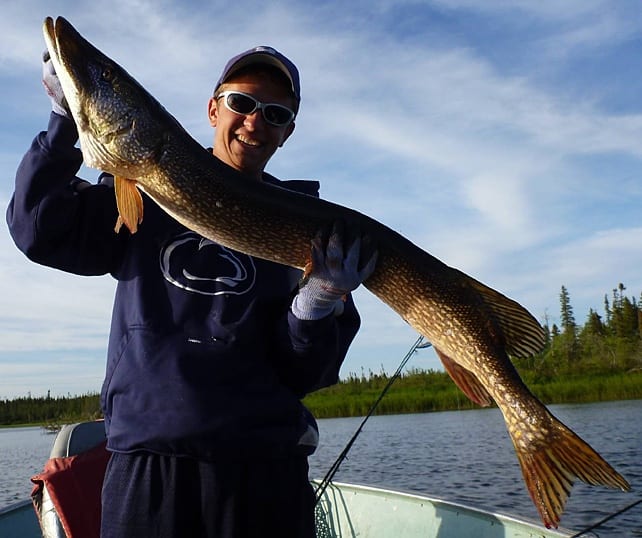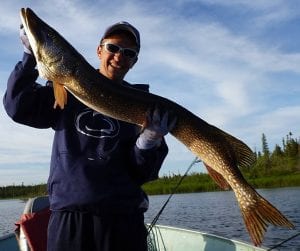 biggest Northern Pike in Ontario without question. There are a number of reasons why:
1) Big water produces big fish. Beteau Lake is a widening of the Attawapiskat River and down stream from Attawapiskat Lake. The Pike have hundreds of miles to roam and hunt down prey. Since the river is stuffed with Walleye, Whitefish, Perch, Suckers and Chub, the Northern Pike have an endless banquet, which is an inexhaustible source of food. They just grow like crazy and get huge.
2) By the time a Northern Pike reaches 40 inches they are usually around 20 years old. It's rare to have a Pike live to 20 years old down south because they usually die from parasitic infestation or disease. In lakes and rivers north of Nakina; Northern Pike are not affected by these factors because the water is so clean and cool. The rivers are even cleaner with a constant flow of clean spring water. As a result, Northern Pike can live to be well over 70 years and can grow to great sizes.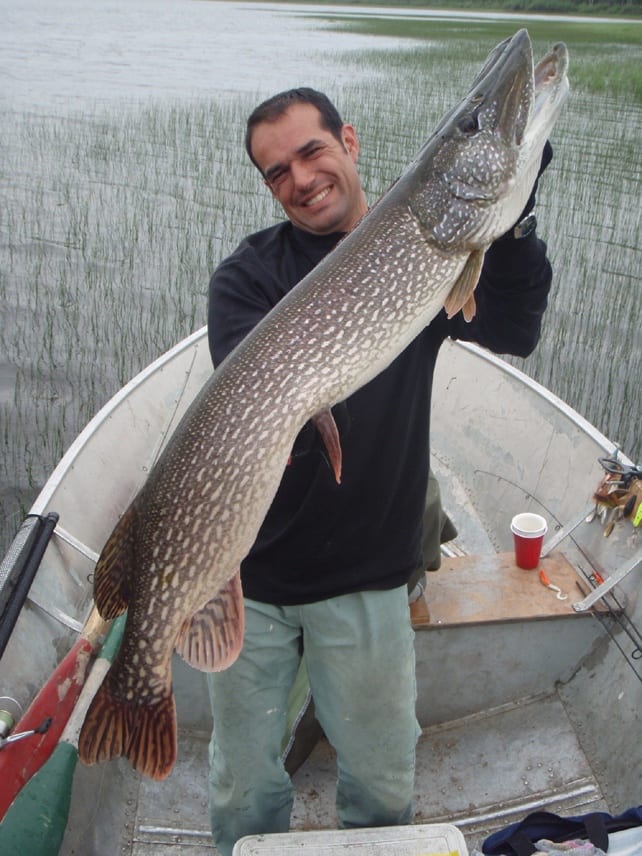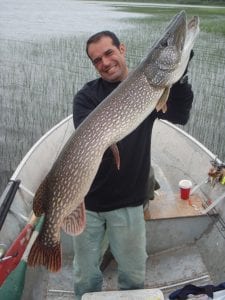 3) As we said before the Northern Pike in our area get unusually thick and look like alligators when sunning themselves in shallow water. We are not 100% sure why the Pike in the River are so much thicker than Pike in the lakes but usually it is from environmental factors. We are assuming because the Northern Pike are more exposed to current they spend more time swimming against the current thus they grow larger muscles. A 40-inch Northern Pike caught in the river is usually 10% heavier than a 40-inch Northern Pike caught in a lake. So when you get into Pike up towards the 50-inch mark you are looking at a thick powerful fish.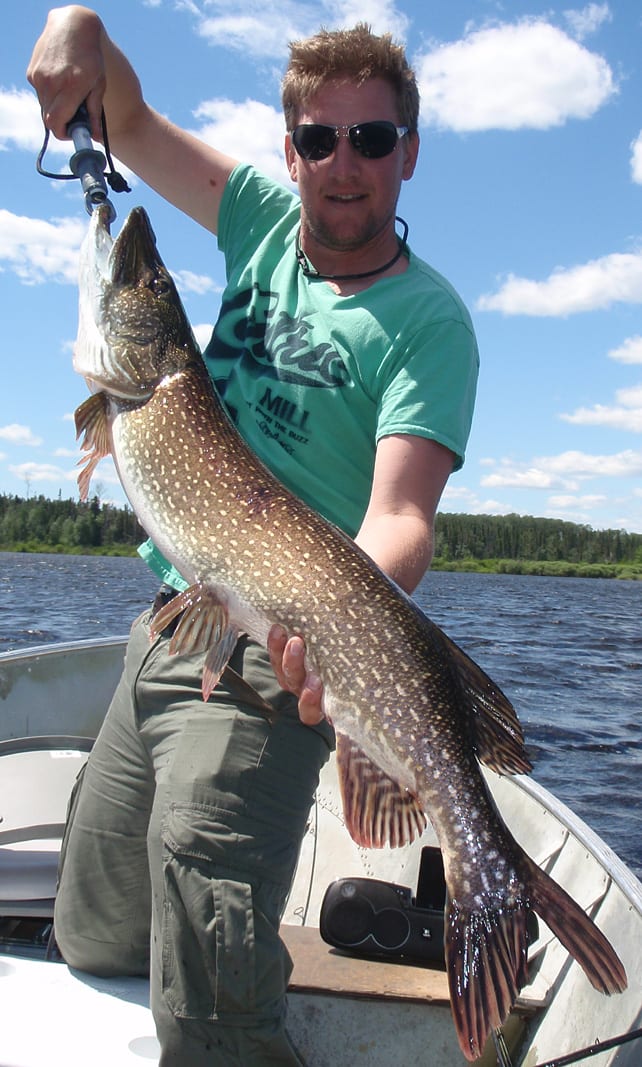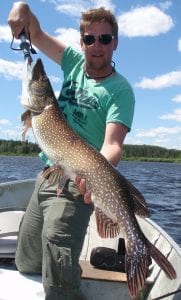 There are not a lot of small Pike in the river because they usually get eaten by bigger Pike. On an average day you will catch between 15 to 25 Pike. If you target Northern Pike directly there is a great chance at getting a Northern in the 40"- 45" range, which is usually around 18-20 pounds or bigger. This is The Land of the Gators and monster Northern Pike do get caught
many times by lucky guests throughout the summer. The largest Northern Pike actually brought into the boat was a 52-inch 30-pounder. Guests have told stories of Northern Pike so big they would not fit in the net. Will you be the one to break our camp record? They are there waiting for you.
Windsor Lake Northern Pike Fishing:
The Windsor Lake Camp is on a chain of lakes along the Attawapiskat River so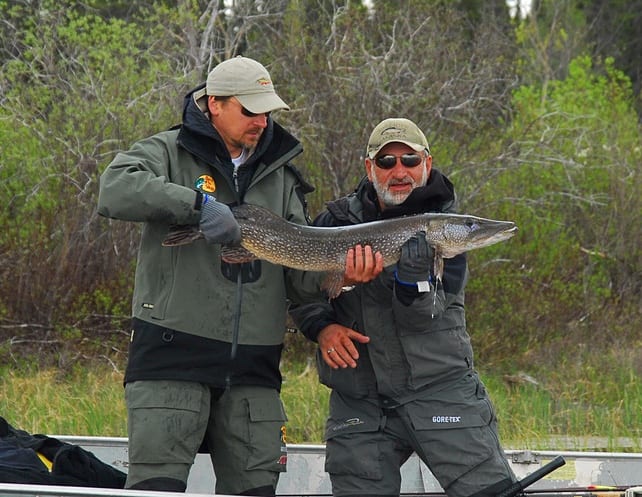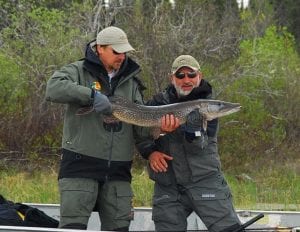 you can expect the Northern Pike fishing to be just as good or even better than Beteau Lake due to its more remote location. The Windsor Lake camp is in an area of the river system that has experienced next to no fishing pressure. You can expect to catch a trophy if you target Northerns. There is just no comparison to other locations further south.
Richter Lake Northern Pike Fishing:
Richter Lake is not known as a Northern Pike lake. It's where we send guests who want to catch 100 Walleyes in a day. Truthfully we do not really know the Pike potential in Richter Lake because everyone that fishes the lake specifically targets Walleye. Guests do catch Northern Pike while Walleye fishing and you can expect to catch 15 to 20 of them in a day. There have been really big Pike caught there but since most Walleye guests don't use leaders they often lose anything big. There is no reason why Richter Lake could not produce a 20-pounder. They have millions of Walleyes to feed on.
Blackbirch Lake Camp: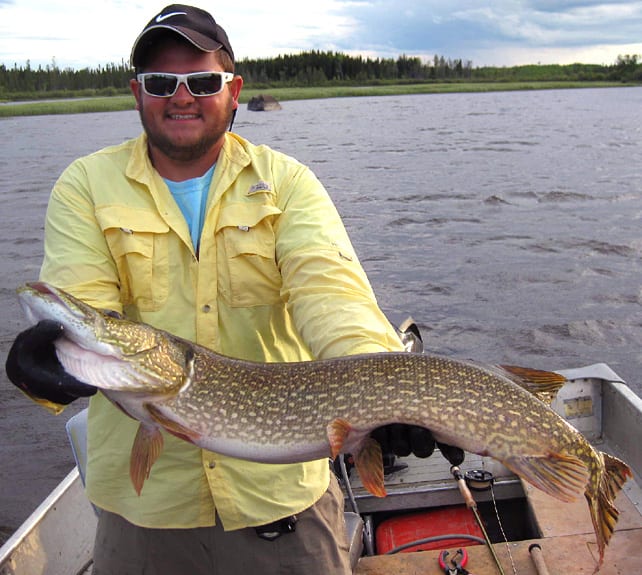 Blackbirch Lake Camp is now open for World Class Trophy Northern Pike and World Class Trophy Walleye fishing adventures. And I mean BIG fish! This camp is 50 miles farther north than our main camp on Beteau Lake and is one of the most remote northern outpost camps in Ontario. Blackbirch is our most northern outpost camp, and although it comes with a slightly larger price tag due to extra flight costs it is worth every penny. It is truly an untouched paradise for fishing. Incredible and something most Anglers could only dream of.
Northern Pike are easy to catch and hit just about any lure. When you are flying into a remote region of Northwestern Ontario that has the best trophy Northern Pike fishing in Canada you do not want to waste time with little Pike. The trick is knowing how the big trophy Northern Pike behaves and where they will be to maximize your chances at catching one of these monsters. Check out our guide on how to catch the big one!
Our Conservation Policy:
We would ask that all of our friends and guests observe a ​100% no kill policy on all Pike.​ We believe this is the only way to ensure the quality of the experience. In addition proper handling of these magnificent fish is imperative. We will provide each boat with a landing cradle to help assist in the handling of larger fish. Please try to keep the fish in the cradle at the boat side while unhooking. Wire cutters, long nosed pliers and jaw spreaders are essential tools for a quick and safe release. If the hooks are buried too deeply please utilize wire cutters to quickly cut your hooks and remove the lure. When your partner is ready with the camera quickly lift the fish for a photo being very careful to support the fish underneath as well. Vertical holds can damage internal organs! Please use a glove as well when hoisting the fish in the boat for a photo. Your grip will be enhanced and the risk of dropping these large, strong fish in the boat will be minimized. Return the fish as quickly as possible to the water to be revived. If they seem particularly weak utilize the cradle until their strength has returned. If everyone uses these handling techniques it's my hope that most of the delayed mortality caused by improper handling will be eliminated.
Fishing for Walleye must comply with the Ontario Guidelines for our zone.​ In addition we ask that all walleye larger than 24" are released to help sustain the trophy population we take so much pride in. We would like to be able to continue to offer this unbelievable experience for generations to come.
Whether it be a Pike, a Walleye or a majestic Bull Moose, conservation and guest cooperation with our policies is the only way we will be able to maintain this truly special place for future Hunters, Anglers and their families for years to come.We thank you in advance for your commitment to joining us in this endeavour.